2021
NOVEMBRE A VITRY
COLLECTIVE
Galerie municipale Julien collet
Vitry / France


"Novembre à Vitry" is an annual international competition open to French and foreign painters of all stripes created in 1969.

Along with:

Arnaud Adami / Louise Aleksiejew / Carmen Ayala Marin / Diane Benoit Du Rey / Jean-Charles Bureau / Juliette Buschini / Hugo Capron / Marion Chaillou / Odonchimeg Davaadorj / Laetitia De Chocqueuse / Sarah Duby / Pierre Dusaussoy / David Festoc / Louis Gary / Bonell Jose / Kahina Loumi / Arthur Marie / Chelsea Mortenson / Marwan Moujaes / Odilon Pain / Marius Pons de Vincent / Franck Rausch / Clément Reinaud / Flore Saunois / Hugo Schüwer Boss / Manon Vargas.

This year, the two winners were Jose Bonell and Jean-Charles Bureau.

2021
CATERPILLAR
COLLECTIVE
Galerie Slika
Lyon / France



Three paintings for "Caterpillar" a show curated by Mon Colonel & Spit. at Slika galery in Lyon.

With Brecht Vandenbroucke | Dick & Vle | EKTA | Felix Beausoleil | Guillermo Carrion | Gwendal Lebec | Huskmitnavn | Jean Jullien | Jeremy Boulard Le Fur | Jon Burgerman | Laurent Impeduglia | Mafia Tabak | Marti Sawe | Michael Swaney | Mon Colonel & Spit | Nina Vandeweghe | Paul Loubet | Paul Wackers | Pelucas | Rhys Lee | Silio Durt | SO ME | Thomas Mazzarella | Yann Lebec | 2SHY
2020
BYE BYE FUTURE!

COLLECTIVE
Musée royal de Mariemont
Belgium


"Bye, Bye Future! L'art de voyager dans le temps" took place at the Musée royal de Mariemont from 25 January to 25th October 2020.This exhibition curated by
Sofiane Laghouati and the participation of Luc Schuiten, explore the theme of time, space and future into art and counted with artwork from a lot of international artists as Wim Delvoye, Fred Biesmans, Panamarenko, Clara Marciano,Stéphane Halleux, Nicolas Rubinste
in, Hayao Miyazaki, François Wagner, Benjamin Monti, David Lachapelle, Tania Moureau, Geriko and a lot more.
Some of my collectors and myself have lent 4 canvases and 4 sculptures to the museum to let this beautiful exhibition happen.
You still can do a virtual visit of the show following this
link
.
Also was printed a beautiful
catalogue
of the exhibition with a really interesting text by Sofiane Laghouati.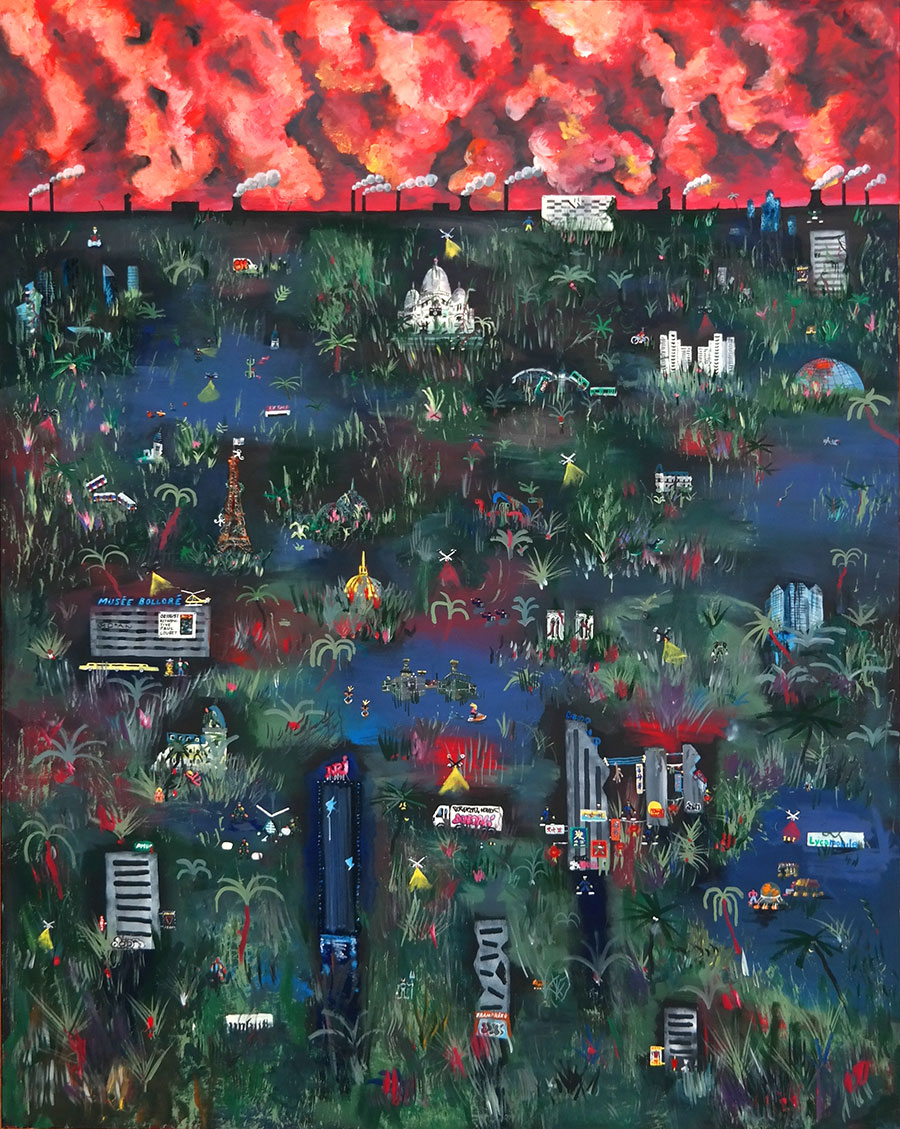 2019
OBSESSIONS
COLLECTIVE
Mima Museum
Brussels / Belgium

The subject of the 7th chapter of the MIMA is the definition of "normality" in art.
"Obsessions" curated by Bertrand Léonard, presents several hundred works by 23, mainly Belgian, artists mentally deficients, taking the form of drawings, sculptures, ceramics or in situ installations.
In this amazing show, several dragsters ceramics, we did in collaboration with Florent Talbot during 2019 summer residency at "la S grand atelier", were showcased.
Also you can have eard to the Ep "prophéties" we produced together at the same time
here ︎