GENERACION PAUL LOUBET

// 2015

El mirador espacio
Buenos Aires
Argentina


The first floppy disc was painted during the crisis of Ebola in 2014. The idea being to create a viral work. It will be followed by 12 others, and will end with a Justin Bieber's one.

In the middle of the Ebola Crisis, the images broadcasted on TV reminded me, with dismay, apocalyptic movies from the 80s. I so decided to paint a city, in the pure Escape from N.Y style. The city is invaded by punk mutants crawling out of the sewers. To amplify the highly-rated toxic ambiant, I enhanced the canvas with airbrushes and with phosphorescent material. It was presented under a black light.

Because I´m shark phobic since my first viewing of Jaws by Stephen Spielberg, I tried to look after my evils via this painting. In the middle of it, on the same sea scooter as Kenny Powers, ultra hero ultra virile of a series that I was watching at this very moment, and with my beautiful wife Julia Zac I just married, I challenge an army of sharks by means of my Harpoon

When I was 7, advised by Guillaume Bouhris, my neighbor and friend, the first CD I bought was the Dutch hardcore techno compilation THUNDERDOME XII (green spider cover). This painting is a tribute to the occult and acid esthetics proper to the Gabber world. All the main characters, from dancers to guards, are pulled from a YouTube video of a 1995 show. Two year later, I did Rotterdam Nightmare, wich is bascicaly the same but focus on the thunderdome II issue. It has a cover with a doberman who used to affraid and fascinated me a lot.



Virus
Acrylic on floppy disc.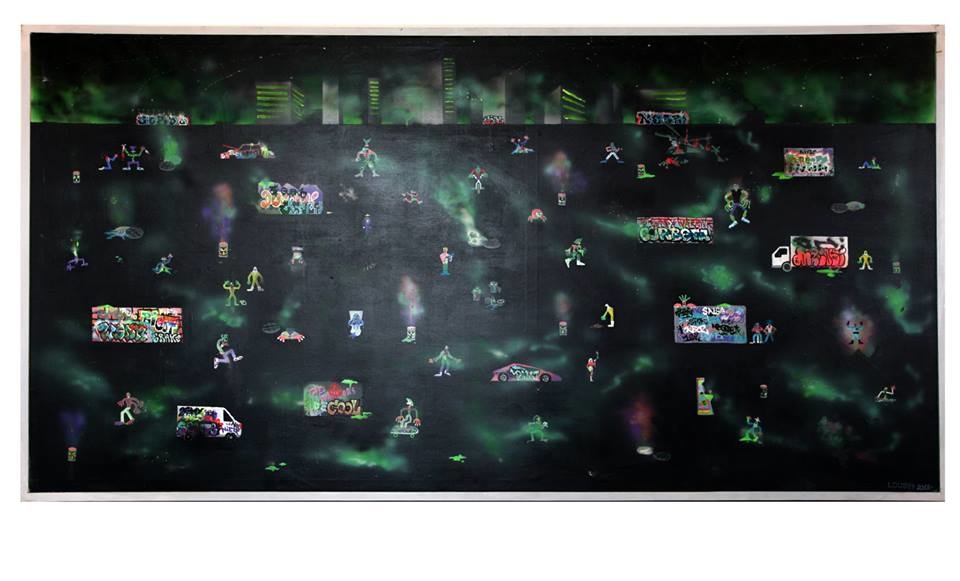 NEW YORK 2034 TOXIC MUTATION
Acrylic and aeropgraph on canvas
2*1,40m
2015

The shark Hunter
Enamel on steel
60cm
2015
Rotterdam Nightmare
Enamel on steel
60x30cm
2015






















W